Is it already 11:23pm on Sunday night? What a weekend! Sara and I joked with each other that we "switched roles" – I pretty much spent the weekend with the kids and Sara was working her tail off. Though we all know (well, you parents do) that when you have kids, you all work all the time. I will say…I am more tired than normal. Hats off to you moms out there – how do you do it? When do you get your lunch break?
Anyway – lots to post, but it's too late to post it all right now. One of the most exciting events of the weekend, though, is that our dear friends Patty and Mike had their TWINS this weekend!! They went from 2 kids to 4 in about 4 minutes! A boy and a girl…names still being finalized…and my goodness, if you've never seen newborn twins less than a day old, you should grab some kleenex and watch this slideshow. Time just hits warp speed from here. You can't get these moments back.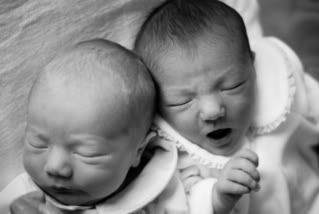 Congratulations, Anne and Bridget! You'll be great big sisters for sure.
Ok – off to bed! Check-in tomorrow for more news from the weekend.
Chris