What's more fun than carving pumpkins? Painting them! Last night at Bridget and Annie's house, our pumpkin patch pumpkins became the canvas for some incredible artwork. Check out these little artist at work: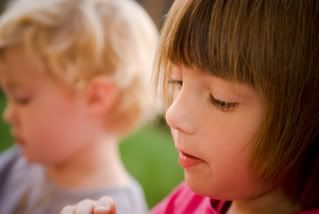 And even though Luke isn't quite old enough to join in the fun, I think he really enjoyed eating fruity cheerios in his exersaucer!
Watch out world – pumpkin art is the latest and greatest!
We wish you all a happy, safe Halloween!
The Goetz Family